Ideas for Perler beads
Perler bead patterns
Here are some ideas for Perler beads. Perler beads are popular all over the world as a diverse material of artisanal work its fantastic fun for kids and they can be as creative in their crafting. Below you will find some Perler bead patterns for adults as well as kids. There are several beaded patterns in an easy-to-follow visual guide. They are not just there in order to make great jewelry but they have more potential if one thinks from an imaginative perspective. If you want to make fun-making bead projects visit these amazing free bead designs for easy Perler bead ideas that are super creative and genius.
How do they work?
The Beads use a plastic pegboard on which the plastic beads stand. These pegboards are available in plenty of different sizes and shapes so you can create many different designs. The squares also can go together to make larger designs. As you are completed your design projects, you place parchment paper on top of the pegboard design then you use an iron to fuse together the beads. It's so cool!
What can I make with Perler beads?
There are endless possibilities about this bead design on the web. Printable templates can be used or you can be creative and make your own design. Younger children start with one small basic pattern until they know how things work out. Older children have more patience for more elaborate patterns and they really enjoy some of the 3D designs. There's also an iPad app that might assist you with some of these designs by yourself.
Where Do I buy Perler beads?
These hard Perler beads can be purchased from Amazon or craft stores. IKEA offers a big tub of these for just a few dollars.
Where do you get more fusing bead pattern ideas? You can search the internet for easy Perler bead ideas and different patterns they are endless and so much fun! Give us some advice of your own on how to make your own future craft projects. Below you will find out how to make stuff out of Perler beads. From the coolest Perler bead design to the funny Perler bead ideas, have fun!
DIY Perler Bead Ideas
Coaster Hearts For Valentines Day! By Camille Styles
Valentine's Day is all about love, and what better way to show your loved ones how much you care than with a cute little DIY coaster?
You can make these coasters with Perler beads. The process is super simple, and they're a great activity for kids—you can even get them involved in the planning! These coasters are perfect gifts for that special someone in your life.
Make a key chain!
Rainbow Bead Keychain from My Frugal Adventures. Sweet and simple keychains on backpacks and school packs will go well. This is all possible on tiny hands too! Such a cool Perler bead art idea to do with kiddos!
1. Fruit Bead Keychain
Yummy food Keychain that would look awesome on your backpack when you go back to school.
2. Perler Bead Statement Necklace
This is such a great way to use Perler beads this is a creative idea for kids or teens and you could even make bracelets just using your imagination the possibilities are endless. Another easy Perler bead idea.
Make a key chain holder!
Perler beads make wonderful Rainbow Keychain holders. Sweet and simple keychain holders. This is a fun ideas for little ones as it's possible for tiny hands to make!
3. DIY Bead Key Holder
4. DIY Bunting "flags"
5. Tic Tac Toe Game
6. Sunny Coasters
Freshen up your outdoor summer table and have fun creating this cool Perler bead art with your family or girlfriends!
7. Bead Candle Holder
Melting beads ideas with your pearly beads starts here. Make cute Perlers by melting them into a bead candle holder.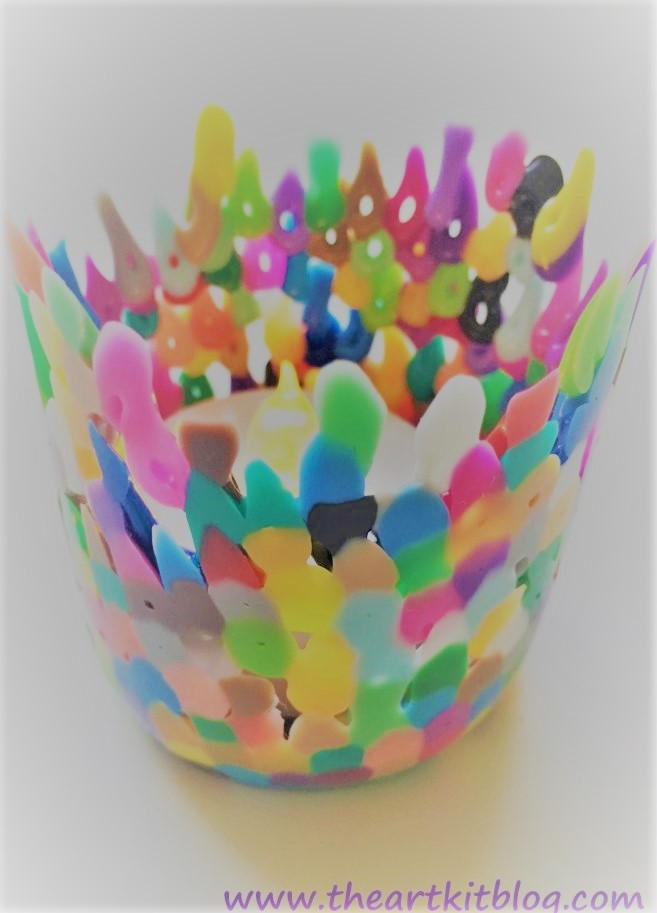 8. Earphone Holder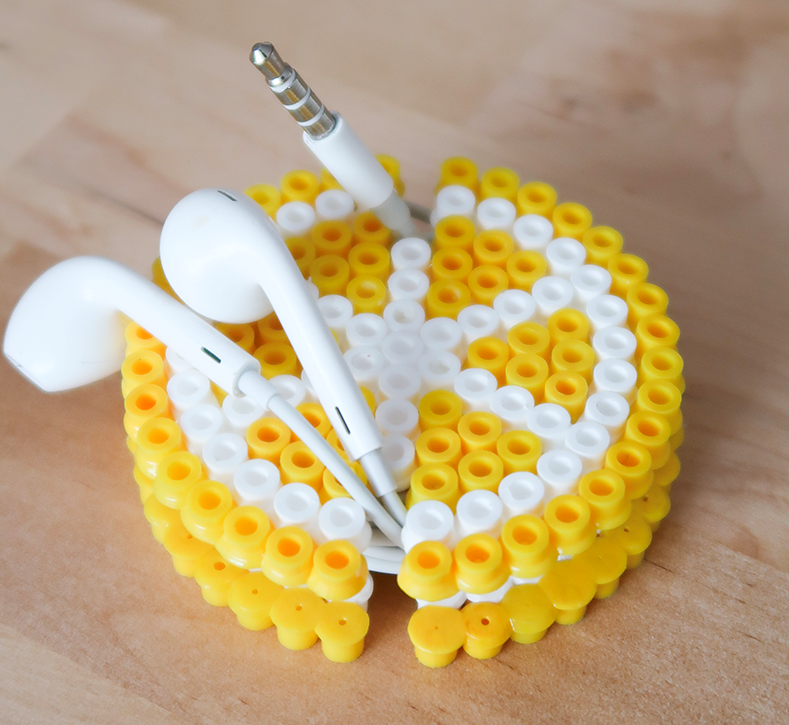 9. Space Shapes with free patterns
Space Shapes Make Perler Bead Magnets
Colorful beading makes these decorative magnetic pieces more entrancing and attractive. The sticky electromagnets attached to the backside of the fuse beaded spaceships can be used for your fridge to hang up artwork or pictures of your favorite people. You can also use it as a coaster at a children's Birthday Party.
10. 10 Cute Halloween Melty Bead Fun!
This is all about Halloween! Here are some easy perler bead patterns for younger kids that are so darn cute and spooky too! These simple designs are perfect for little ones to create their own Halloween decorations or accessories. From adorable ghost and pumpkin shapes to candy corn and eerie Tombstones, these perler bead patterns will let their creativity run wild while getting into the spooky spirit of the season. Plus, the vibrant colors and fun shapes will make for fantastic Halloween-themed crafts that can be displayed proudly during this thrilling holiday. So, grab your perler beads and let's get crafting some boo-tiful creations!
11. Jewelry made fun into Bracelets
12. DIY Perler Beads Sofa For Dollhouse in 3D
13.Aquarium for DollHouse in 3D
14. Perler Bead Magic Cube Crafts
15. Home Decor Perler Beads Coaster
Here is an updated way to use these melty beads by making…coasters! It'll have you feeling like a kid again with a VERY useful end result.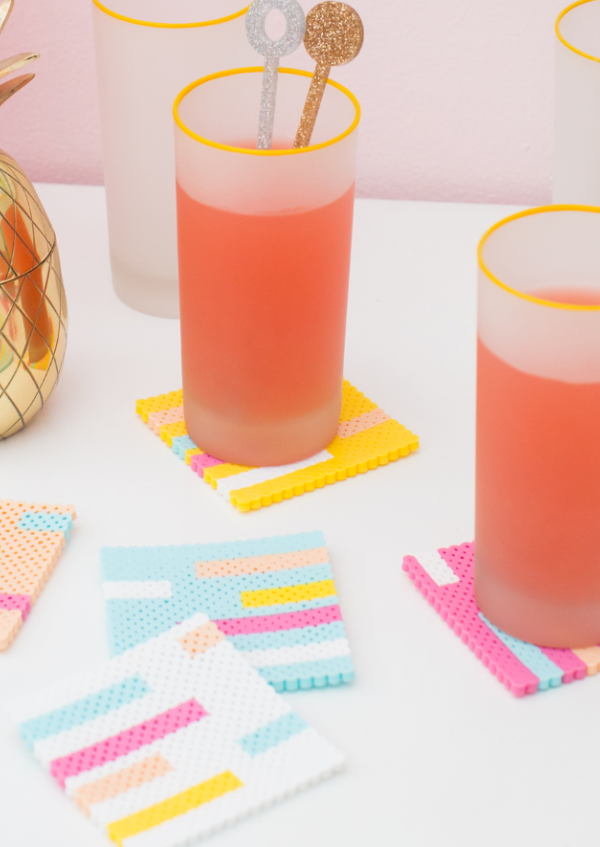 16. Melty Beads
Charm bowls are perfect for making home décor and you can keep some little things in them.
Made With HAPPY
17. Perler Bead Safety Pin Bracelet
Want to make some stylish bracelets for your friends! What a great friendship gift for your BFF and it always means so much more when someone makes it for you. What are you waiting for? Get creative!
18. Woven Bead Planters
Wow, another great gift idea. Think of how much your grandma would love one of these for Christmas or even your mom on mothers day!
19. DIY Perler Bead Button's
These are great for gifts you could make them and put them in a tiny box you could even make into necklaces the options are endless.
20. Bead Tray
Kids Woah! This is amazing! What a fabulous mothers day gift this would be! Just fuse bead the beads together and you have this beautiful item made and these are wonderful gifts.
21. Perler Bead Earrings
Spooky, spooky earrings you will be sure to scare everyone away come Halloween
22. Mini DIY Kaleidoscope
Super duper groovy when you look through this kaleidoscope!
23. Suncatcher Ornaments
24. DYI Bead Pencil Case
There are so many great Perler bead ideas this one really caught my eye with back to school coming close. This is a pencil case! I thought this would be a great fun activity for the kids and it's so colorful!
25. Perler Beads Rainbow Spinner
When it's windy outside this rainbow spinner looks fun when it spins around and around.
26. DIY Perler Bead "BFF" Picture Frame crafting for Kids
27. Perler Bead Crown
Make this unique crown for a dress-up or a kid's party!
28. Girls Headband
29. Minecraft Designs with HAMA Beads
Use Perler beads for these creepers! Here is a cool pattern idea you can use in your crafting with HAMA beads
30. Paperclip Bookmarks
How fun are these Perler bead crafts made with paper clips the kids can use for back to school!
31. Melty Bead Spinning Tops
32. Mario Patterns
Mario Perler Bead for Kids
Beads white blue red orange-red and brown colours were used as background to make the cute Mario. Kids can choose colours of their choice to create their own games. This is an activity for kids to explore and teach colour differences creatively. Use one of these Mario templates for the design. It's not necessary to choose Mario colours beads, feel free to be colorful when creating your cool design it's all about having fun!.
33. Back to school pencil cup
34. Fun Food Projects for Kids
35. Minecraft Block Bank
What are miracle Perler beads?
Perler is a brand name you can discover called Hama beads. In addition, there are many generic fusible/melt beads such as Ikea's massive tub.
Where can I buy patterns?
Kits are very popular because they feature all beading colors that can be used to make a project. Pattern books provide hours of fun with these types of books. You can buy these Perler bead crafts through amazon or any craft store.
My favorite is the Harry Potter
This set includes
(4000) Perler Harry Potter theme fuse beads, (1) pegboard, (1) ironing paper, and (1) pattern sheet with instructions.
19 Harry Potter bead patterns
Create your favorite witches and wizards from the wizarding world with this awesome Perler project kit!
With an adult ready to help iron together their creations, This kit is a great craft activity for kids or playdates!
Comes with everything necessary to create all 19 of these magical patterns!
Bring your digital adventures to life with real-world craft projects inspired by the world of Minecraft® and other pixelated games. Kids and families can use this imaginative book to create instantly recognizable toys, jewelry, wearables, and accessories, based on one of the most popular video games of all time. The blocky pixelated graphics of video games are perfect for so many different kinds of crafts. This book helps children to expand their imaginations and develop their creativity as they acquire creative hobbies that will last a lifetime. Choly Knight shows how to make quick and easy versions of popular characters and game elements, using only a few basic craft supplies. Inside this book she offers 15 fun step-by-step projects for perler beads, duct tape, paper crafting, painting, sewing, and crocheting.
Perler Beads 22,000 Count Bead Jar Multi-Mix Colors